Joomchi & Beyond by Jiyoung Chung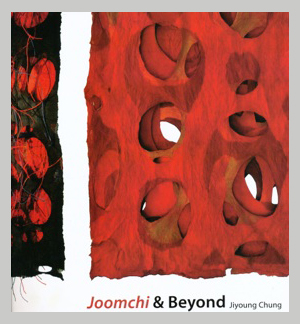 Contents:
• Congratualtory Essays by Peter Gentenaar and Elizabeth Wasserman
• Foreword by Karen Searle
• History
• How to make 4 types of traditional Joomchi
• How to make Jiyoung's 10 Joomchi variations
• 2-d and 3-d Projects
• Surface Treatments
• Tips
• Resources
Jiyoung Chung explores the unique Korean papermaking tradition (Joomchi) that inspires her contemporary art works. In joomchi, layers of mulberry paper bond together with only water and eager hands, in a process similar to felting. Chung acquaints readers with the history and role of Joomchi in Korean culture, and explains the hands-on techniques. She provides step-by-step instructions for making four types of traditional Joomchi and ten contemporary variations. Projects and surface treatment options are also presented. A 50-page photo gallery of Chung's art works illustrates the versatility of this intriguing art form.
⌈ 470 Color Photos 4 Color Drawings, 15 B/W Line Drawings
144 pages, Paper; ISBN 978-0-9830029-1-8
US $38 plus shipping ⌋
About the author
Jiyoung Chung is a painter, mixed-media artist, and freelance writer. In her hands, the ancient art of Joomchi takes on a contemporary appearance and moves into the realm of fine art. Her raw material, mulberry paper, is transformed into a painterly contemporary art form filled with sculptural and textural imagery.
Artist Links
° Chunghie Lee : www.chunghielee.com
° Jiyoung Chung : www.jiyoungchung.com