Bojagi (Bo-Jah-ki), or wrapping cloth, is the ancient Korean folk tradition of making pieced textiles for both everyday and ceremonial use. Originally made by anonymous housewives to fulfill a practical need along with an artistic impulse, Bojagi and it's techniques have recently gained attention outside of  Korea due to the increasing interest in the value of handmade items, as well the use of recycled materials and the politics of sustainability in textiles and contemporary art.
From traditional women's work to contemporary sustainable textiles, bojagi works include delicately pieced and hand-stitched traditional bojagi, reinterpreted bojagi, wearable pieces, installations, and wall hangings. This uniquely Korean art form made by anonymous ancestors has evolved from functional works into a contemporary art form that is embraced worldwide.
Since the late 14th century, every household, from the royal palace to the thatched-roof hut in a mountain village, has found these wrapping cloths indispensable. The tradition of making and using bojagi was established during the Josun Dynasty (1392 – 1910) when women were restricted from leaving their households. To spend the long, tedious hours of the day, girls were taught to sew at age ten, and needlework became a big part of their lives as they moved into  adulthood. This folk art tradition was the only escape from the sequestered lifestyle of Korean women, and provided them with an artistic outlet for creative expression.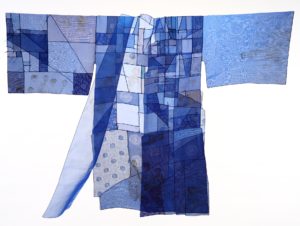 Bojagi is rapidly becoming a contemporary art form and is expanding its material boundaries away from fabric and paper and moving toward architectural works, body ornaments, installation, sculpture, wearable art and much more.
I see this patchwork as a metaphor for human life. We may feel ourselves to be as random pieces of fabric, alone and without meaning, but God's hand places us together in a beautiful composition, which has great harmony and meaning. As artists of all nationalities, generations and heritages, we discover we are all alike, and have been saving and making beautiful things with discarded fabric and other materials. In the eyes of artists, fabric scraps can be transformed and repurposed to fulfill the design and vision of the creator.    – Chunghie Lee
Go to Korea Bojagi Forum for information on our biennial conference.